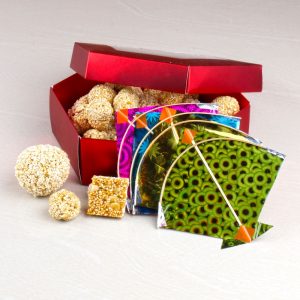 India is a land of festivals. We Indians celebrate all these festivals with lots of fun and enthusiasm. Ayurveda explains 6 rutus (seasons) where every 2 rutus clubbed together,  explains three seasons in a year as per modern calender. All these festivals are associated with various rituals and tasty delicacies with slight variations as per the state and customs carried there. It wont seem an exaggeration if I say, we almost have one festival every month. eg- We have Ganpati festival associated with Modak in varsha rutu (monsoon), then we have Dasshera followed by kojagri pournima, Sharad rutu (october heat) where in we relish flavoured milk cooled down by moonlight. Diwali – where we enjoy various sweet and salty recepies fried, baked, roasted all yummy and healthy comes in Hemant rutu (beginning of winter). And With the start of the new year comes Makar Sankranti, shishir rutu (peak of winter).
Now one may wonder, why so many festivals alongwith so many other celebrations in a year? Din't our forefathers have any work to do? Others may say – they just enjoyed their life to the core, with frequent family get togethers and relishing various delicious recepies every now and then, wow what a life! While others may say they din't have much of entertaining things to do or be with, so these were the ways to enjoy.
Well… these things may be partially true, but our ancestors were pretty smart, enjoyment and get togethers surely make your life happy, easens your work and other stress, meeting friends and family personally, gives more happiness than wishing them on social networking sites.
The most important aim of the delicacies associated with festivals – Ayurveda suggests change in diet as per the rutu (season) – as the climate changes with the season so does the internal body environment; namely agni, and dosha levels. The food items used in preparing the particular delicacies, is an indication, that all these foods items and other foods with similar properties should be consumed and also used in various recepies, in this season (Seasonal regimen).  These dietary changes maintains dosha dhatu balance in the body and also prevents the common seasonal health complaints.
Makar sankranti is celebrated mostly on 14th january every year (Shishir rutu); wherein the weather is extremely cold, the digestive fire in the body is very well kindled. Vata dosha is predominant in the nature and the body, cold breeze blowing around and body demands for some heat and oleation, skin and hair appears dull and dry.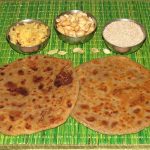 So here comes the special delicacies – Sweets like Til gul ladoo or chikki (A preparation made with seasme seeds, jaggery, dry coconut and peanuts), Gulachi poli (a flat wheat bread or roti stuffed with jaggery, sesame seeds, crushed peanuts) and served with lot of ghee, niger seeds, sesame seed, peanut, nuts are used to make chutneys and also used to make various preparations. Kheer made of dry dates and other dry fruits is a special treat.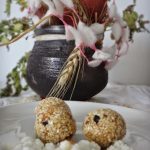 The veggies and food like beans, peas, green grams, carrots, raddish, bajra, sugarcane, Indian jujube fruits(bor/ber) are harvested in this season. Women arrange a small gathering at the homes and exchange these sweets and food items as a token of love and health. People fly kites in the air, This increases the social bonding and love (sneha). Sneha reduces vata in the body and hard feelings among people, they stay connected and spread happiness.
A day prior to the Makar sankrant is called bhogi, where a mixed vegetable is prepared with all the above mentioned veggies and flavoured further with peanut and niger seeds. This is served with bajra roti roasted along with sesame seeds.
All these food items are snigdha (here snigdha literally means presence of oil content) in nature, hot in potency, heavy to digest and so takes good care of the kindled Agni, thus maintaining the tridoshic balance. These foods pacifies vata and kapha and increases pitta (heat)in the body. Being snigdha gives glow and nourishment to the body internally, strengthens the bones and stores the body energy for the upcoming year.They also provides the luster, nourishment and glow to the skin, nails, bones, joints and hair. Strong bones and joints in turn keeps you active and away from joint pain issues. In short you can say it is a power package of winter super foods.
Happy Sankrant…. stay fit, be happy and stay healthy with Ayurvedic guidance ,natural seasonal and local foods.  And as it is said in Marathi -TIL GUL GHYA GOD GOD BOLA.