Chapter 4: Black Pepper (Kali Mirch)
Marich or Kali Mirch, as we call it, is a spice that ensures there is taste in your food. I am sure you agree!
This is something my daughter believes too. Whenever she has something bland to eat on her plate, she will always mix it with some extra topping of Black Pepper.
Whenever I ask her about the benefits of Black Pepper, all she has to say is, "It's tasty".Well, let me tell you, Kali Mirch or Black Pepper isn't only about taste. It's one of the most important spices that offers immeasurable health benefits. It's a globally used spice which is why the name 'The king of spices'.
अथ मरिचस्य नामानि गुणाश्च।
मरिचं वेल्लजं कृष्णमूषणं धर्मपत्तनम् ॥५९॥
मरिचं कटुकं तीक्ष्णं दीपनं कफवातजित्।
उष्णं पित्तकरं रूक्षं श्वासशूलकमीन हरेत् ॥६०॥
तदामधुरं पाके नात्युष्णं कटुकं गुरु।
किञ्चित्तीक्ष्णगुणश्लेष्मप्रसेकि स्यादपित्तलम् ॥६१॥
Most people aren't aware but marich, apart from being a health-benefiting spice, also has the property of transporting essential active ingredients of other herbs to their right destination. Black pepper has piperine as an active ingredient that is inherited from its plant.
Major Constituents of Marich or Black Pepper
There are a lot more benefits of marich that you might not be aware of. So let's discuss them in detail.

Marich (Black Pepper)
Health benefits of Marich:-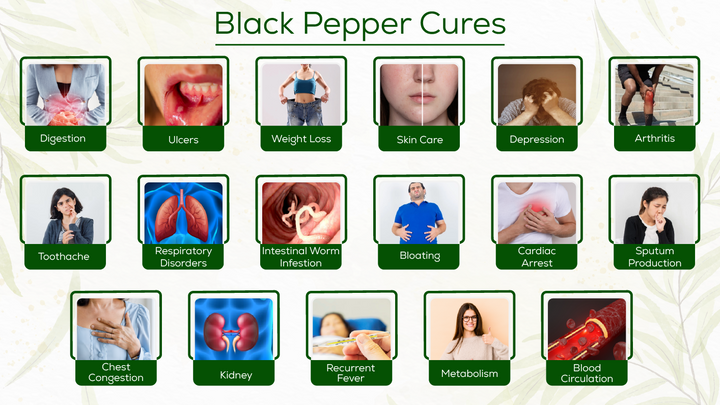 Marich's deepan (appetizer) properties enhance the body's metabolic performance. It reduces the excess ama collected in the body and cuts down on extra fat. It thus provides nutrition and also facilitates metabolism to all the dhatus efficiently. This effectively helps to reduce weight. So if you are looking to shed some extra weight, add a pinch of Black Pepper in your green tea and drink it twice a day.
Frequent indigestion can lead to the formation of ama, which in turn, can be a reason for srotorodh (obstruction of body channels), thus causing various diseases like lethargy, body ache, joint pain, obesity, bloating, and abdominal pain to name a few.
Pepper being hot in potency and tikshna in nature kindles digestive fire, metabolises ama and relieves the obstruction in the srotas. It also stimulates the secretion of digestive juices and increases appetite and hunger.
Alopecia is an infection of the scalp which leads to sudden hair fall and the formation of bald patches. The main causes of hair loss can be cancer treatment, old age, tension, stress & anxiety, childbirth, hormonal imbalance, and hereditary.
One can easily fight hair loss by using pepper paste on the bald patch. The paste aids in improving blood circulation and stimulating the growth of the hair follicles.
Eczema is a medical condition, wherein, the skin becomes rough, itchy and develops inflamed blisters. The possible causes can be excessive kleda, kapha and blood impurities. Internal use of marich along with other medicines helps to dry off the secretion, reducing Kapha and unwanted Kleda. Having a Pachan effect also eliminates the impurities from the blood.
Danta swasthya or dental health is believed to be quite individualistic, depending on one's prakriti. Plaque, accumulation of food particles and impaired doshas can be the cause of dental caries. One can use marich to cure their dental health, for example, placing a pinch of pepper powder in the affected tooth can help to relieve the dental pain. It's also known to offer a deworming effect.
So if you are suffering from dental caries, do try putting black pepper on the affected area.
During an epilepsy attack, the patient loses control over his mind and body and may attain an unconscious or semi-conscious state. Epilepsy is also known as apasmara 一 apa (loss) and smara (memory/consciousness) 一 It can be cured permanently by placing a pinch of pepper powder near the nose to help regain consciousness. The tikshna property of marich stimulates the senses effectively, within a short span of time.
Worm infestation can affect any age group, but kids are more prone to worms due to the kapha dominance and excessive intake of sweets. Parents can cure it by including pepper in their kids' daily diet along with drumsticks or soups, khichadi, or sprinkling pepper to fruits and salads has an excellent deworming effect.
A pinch of pepper with ghee is an effective remedy as well.
Marich is a drug that should be essentially added in all the possible forms in the postpartum stage (post-delivery). Pepper is hot in potency, a good vata pacifier, tikshna and pramathi in nature facilitating uterine bleeding post-delivery. It not only cleanses the uterine cavity but also pacifies the vata and helps the uterus regain its original strength, shape and size.
This also helps to bring the tummy back to its shape. Pepper ought to be added to all food preparation in the postnatal stage. Take it along with a lot of ghee or add it to jaggery, soups or replace the chilli powder with pepper for taste; you can choose your style and get the result.
Dysmenorrhea is medical terminology for painful menstrual periods. Painful periods with scanty flow is a common problem. A pinch of pepper with hingvashtak churna or ghee should be taken with warm water to relieve cramps and improve menstrual flow.
Being pramathi and tikshna in nature, it's an effective shirovirechan drug used in nasya. Marich is used for nasya karma along with patients with respiratory issues like sinus, excess cough accumulation in nasal/sinus cavity, or semiconscious or fainting, causing headache and chronic rhinitis.
Marich mixed with honey liquifies congestion of cough in the respiratory tract. It's also helpful in curing asthma and cold.
1-2 pepper seeds can be added to medicated herbal tea or decoction (kadha) for better relief.
Apply the pepper paste on the newly popped pimple or boil. It subsides the growth and eliminates the pimple from its root. If the paste is applied in the later stage, it helps the pimple/ boil to burst to relieve the pain and pus.
Improves Overall Brain Functions
There are many studies and research that show that introduction of Black Pepper in an Alzheimer's patients' diet can significantly improve brain function and help the patient to live a healthy life.
Piperine helps activate the orbitofrontal cortex, or insular that helps to cure brain impairment. Most patients inhale black pepper oils to improve brain functions and reduce signs of depression and anxiety.
Contraindications
If

marich

is consumed in excess by the

patient's pitta Prakriti,

it can cause high blood pressure.

Individuals with a history of acidity, gastric, duodenal ulcers should consume

Marich

only after consulting an Ayurvedic physician.

Avoid intake of black pepper in hot seasons.

Pregnant women should avoid the consumption of black pepper.
As per Ayurveda, Black Pepper can be used for improving one's blood circulation, relieving congestion, indigestion and detoxifying the body. However, every spice has its pros and cons. Pepper can cure but it can also affect reversely. Therefore, please take an Ayurvedic consultation before including Pepper in your diet. An ayurvedic doctor can help you understand your body type and what will suit you.