Herbs, therapies, natural treatments, and home remedies are pivotal in Ayurveda. Herbs strengthen our immune system enabling us to fight the unwanted illnesses residing in our bodies. In today's article, we will be discussing Giloy and its significant role in our lives.
Guduchi, also known as Amruta or Rasayani is a popular herb in Ayurveda, due to its high medicinal values. The name Amruta and Rasayani denotes its ability to rejuvenate, regenerate and enhance the longevity of the body tissues, just as the elixir imparts immortality.
The other synonyms for the herb are Vayastha, Mandali, Somavalli, Dheera, Jwarnashini which depicts its appearance and uses. Known as Gulvel in Marathi, Giloy in Hindi and Bitter tonic / Heart Leaved moonseed in English, Guduchi is an herbaceous vine. It has heart-shaped leaves and bears small red fruits. Giloy growing on neem trees is considered to have many medicinal uses. The botanical name for the herb is Tinospora Cordifolia, and it is one of the best antipyretics, anti-inflammatory, and immunomodulatory drugs used in Ayurveda.
Properties and effects on Doshas
Guduchi is dominantly bitter in taste, it also has a pungent and astringent aftertaste. It exhibits a sweet taste after digestion (Vipaak). Giloy is light in nature and hot in potency.
Guduchi pacifies all the three doshas, namely Vata, Pitta, and Kapha.  It pacifies the vitiated or increased doshas but does not aggravate the balanced doshas, and thus maintains the dosha equilibrium. Guduchi is therefore considered the choice of herb to pacify all the doshas; (Dosha shaman effect).
Abilities of Guduchi
"अमृतासंग्राहीकवातहरदीपनीयश्लेष्मशोणितविबंधप्रशमनानाम् ||"
Charak Samhita, the ancient text mentions Agrya samgraha, wherein the best effectivity of each medicine is described. Guduchi is the choice of medicine to improve digestion – it kindles the digestive fire by reducing the excess bodily kleda, bowel disorders, and constipation. Guduchi is also an effective herb to pacify vata and kapha dosha and bleeding disorders.
Guduchi has a major role to play in various other health conditions. Guduchi can be used in various forms like churna, decoction, juice, oil, or ghee. It can also be rendered with other medicines or carrier medicines, known as anupaan to achieve the maximum results.
Medicinal uses of Giloy –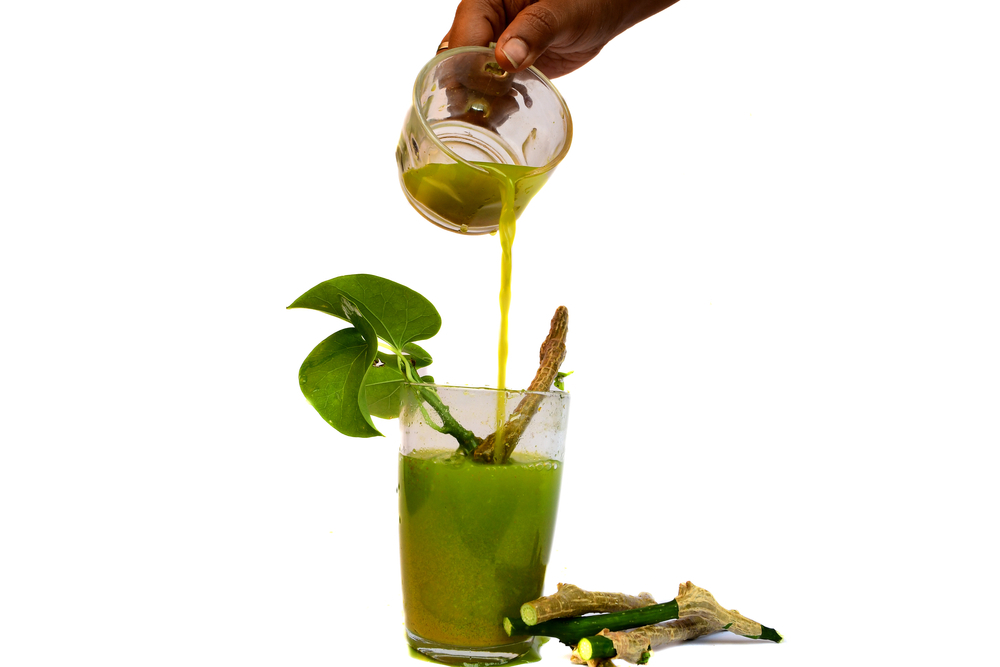 Guduchi nourishes, strengthens & rejuvenates all the Seven dhatus, and so is a good rasayan medicine that boosts immunity and improves longevity.
Guduchi eliminates the excess kleda, toxins and pitta from Rakta dhatu, it detoxifies the blood and facilitates proper formation of rakta dhatu by regulating the functioning of liver and spleen.
The purification of the blood helps to cure skin related diseases and adds to skin glow and tone. Many times, blood impurities associated with Vata dosha results in darkening of skin, Internal use of Guduchi in powder form with warm water or ghee, helps to regain the normal skin color.
Guduchi eliminates the excessive kleda in the body, and so helps to scrape off the excess body fat. It also regulates the generation of sweat and urine. It is therefore useful in patients who have frequent urge of urination and excessive sweating.
Guduchi is a good aphrodisiac, it helps to improve the sperm count, and helps in tissue regeneration at cellular level as well.
In most of the cases, hyperacidity is the result of frequent indigestion, frequent use of antacids, further worsens the condition. Ingestion of Guduchi or its formulation in churna/decoction form, helps to kindle the digestive fire, eliminates the toxins, known as aam dosha from the digestive tract, it pacifies and regulates the formation of pitta dosha, thus treating longstanding hyperacidity problem.
Guduchi is an essential and effective drug in all types of fever. It is used along with other medicines according to involvement of specific dosha. ex. – It is taken with combination of pippali in fever associated with Vata dosha.
In cases with excessive weakness and fatigue after recovery from severe long-lasting fever, use of Guduchi proves very beneficial. It pacifies the involved doshas, eliminates the saam dosha, repairs the body tissues (affected Dhatus), improves hunger and digestion and also restores the body strength and functioning. Guduchi churna, ghrita, tablets have been widely used for fatigue in Post Covid recovery.
Guduchi ghrita (Ghee medicated with Giloy and kantakari) is very helpful in dry cough, especially in the irritating cough which is followed by chronic illness. This ghee lubricates and strengthens the respiratory tract and organs, thus relieving the cough.
Medicinal formulations containing Giloy, are effective in conditions like Jaundice, and anemia. The proper secretion of digestive juices and formation of healthy rakta dhatu is hampered in these health conditions, which is rectified by the consumption of Guduchi.
This bitter tonic is equally helpful in various other health conditions like raised sugar levels, skin conditions with excess burning or itching, varicose veins, the presence of blood clotting disorders, etc.
Joint pain may arise due to various underlying reasons, such as degenerative causes, blood impurities that resemble symptoms of Gout, and Rheumatoid arthritis like aam Vata in Ayurveda, wherein the joints are swollen and stiffened.
Guduchi is an effective herb in all these conditions. Decoction when used in combination with dry ginger and castor oil relieves rheumatoid pain. When used singly or in combination with Shatavari heals gout pain, local application of Guduchi oil is also advisable. Milk and ghee medicated with Giloy – for oral consumption and Basti – is among the most preferred remedy for joint pain of degenerative origin.
And who can miss the Rasayan effect of Guduchi? Where it facilitates the nourishment of all the dosha, dhatus and mala, and restores the health and longevity of the individual. It is one of the easiest available drugs, convenient to use in any form – juice, powder, oil, ghee, decoction, milk; all the age groups and also fits in all the therapeutic uses. Therefore it makes its prime place in must-have herbs of all the Vaidyas (Ayurvedic physicians).
Other Benefits of Guduchi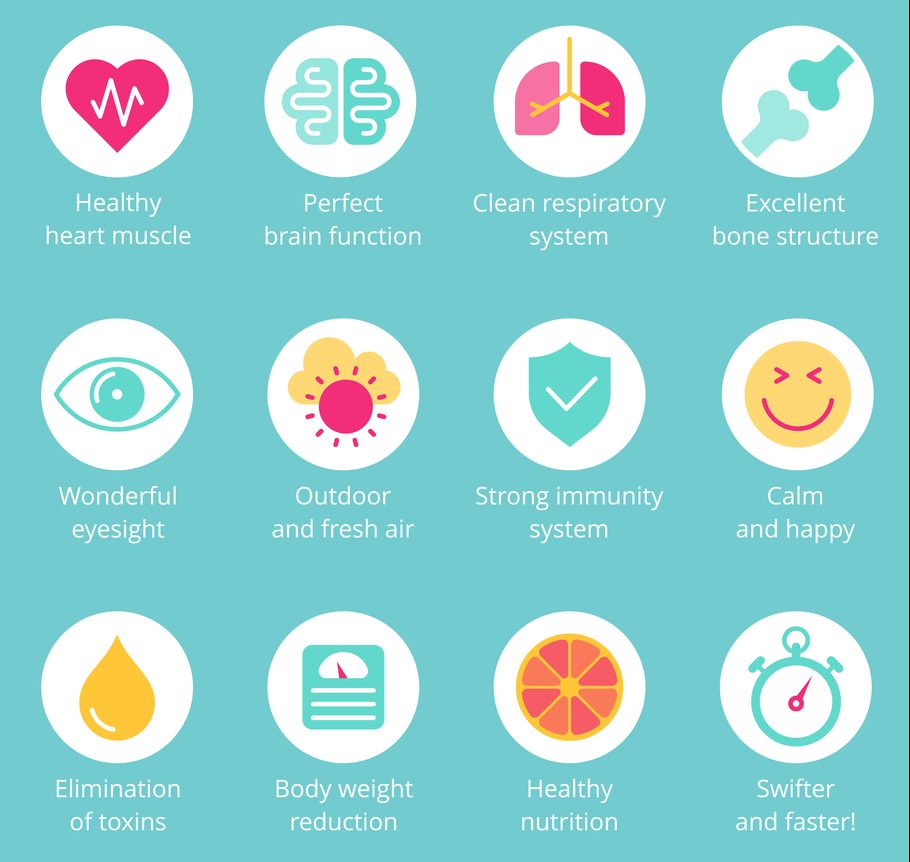 Note – Although Guduchi is a wonder drug, it is advisable to consume only after consulting an Ayurveda physician. The desired results are achieved only when administered in correct medical conditions, which can be confirmed only by the doctor. The proper dosage, formulation, and combination with specific other medicines may vary with age, symptoms, and rutu.