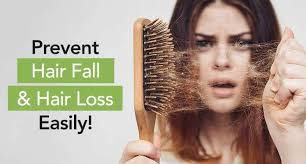 Worried about your hair fall, dandruff, graying of hair, dry and dull hair? People around you, may it be friends, relatives are far more eager to offer their suggestions and remedies. Various advertisements adds to the confusion when it comes to the selection of hair oil and other products. Ayurveda emphasizes on the fact – Hair treatment varies with the varied conditions causing hair fall, which includes diet, environmental exposure, use of chemicals, associated health conditions, etc.
Ayurveda states that Hair is a mala of Asthi dhatu (Bone tissue), which also means that lack of nourishment / weakening of asthi dhatu results in hairfall.         —- Intake of milk, ghee, and asthi dhatu nourishing foods help to control hairfall. Medicinal supplements like Amla, brahmi, etc helps in speedy recovery.
Dandruff is another reason which causes scaling of the scalp skin due to excessive dryness.    —-Proper medication and regular massage with hair oil helps cure dandruff.
Use of various chemical shampoos, colouring agents, gels, etc. leaves hair dry, dull and lifeless.    —-Selecting natural and herbal options like herbal hairpack, use of shikakai, alovera , amla, etc. proves harmless and also nurtures the hair.
Many women suffer lot of hairfall issues post delivery, the reason here being lack of nourishment.     —-Regular oiling of hair, adding dates, almonds, sesame seeds, coconut, and milk to the diet proves beneficial. Ayurvedic Medicinal supplements maybe needed in certain individuals.
Improper hair care, lack of oiling of hair, too much exposure to wind, sun may also lead to hairfall.
Weakening of hair roots.    —-Regular application of hair oil strengthens the hair roots.
Vitiation of vata dosha causes excessive dry, and dull hair.   —-Oil application is the best remedy to pacify the vitiated vata. Intake of vata pacifying foods and medicine should be encouraged.
Wrong food habits – junk food or salted foods lead to premature greying of hair. —–Correcting food habits and internal use of bhringaraj churna or juice as per your doctor's advice can stop early greying of hair.
Stress, repeated digestive disorders like indigestion, acidity, results in improper nourishment to asthi dhatu and hair, this should be corrected with proper medications.
Panchakarma procedures like Nasya, Shiroabhyanga, Shirodhara and Basti offers excellent results in all of the above conditions like hairfall, premature greying of hair, strengthening and adding glow to your hair.
Regular Nasya with ghee works wonders.
How do I select my hair products :
As mentioned at the beginning there's lot of dilemma about how to choose the correct hair products?
Hair oil prepared in Coconut oil provides best nourishment. (Cold press oil should be preferred than refined ones).
Oil prepared with herbs like Amla, Bhringaraj, Yashtimadhu, Brahmi, Aloevera, Vatankur (roots of banyan tree) proves beneficial for hair growth and also controls hairfall.
Amla nourishes the hair, prevents hair fall and dandruff. It also repairs the split ends.
Bhringaraj improves blood circulation of the scalp, thus strengthens the hair root, promotes new hair growth and prevents graying of hair.
Brahmi and Jatamansi promotes hair growth and helps to relieve the stress.
Aloevera conditions the hair and adds shine to them.
Vatankur helps to grow your hair long and strong.
Natural items like Aloevera, Henna, Amla, Coconut milk, etc conditions and smoothens the hair.
Hair pack made with these herbs also strengthens the roots.
Shampoos or decoction made with herbs like Shikakai, Ritha, Brahmi, Amla, Musta, Aloevera, etc  should be used to wash hair.
Going natural with ayurvedic herbs and natural products, will not only build strong and long hair, but also add beauty to your looks.