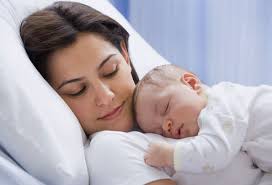 In the previous article we learnt about Post natal mother care in initial days, in this article we shall know in detail about the mother care during rest of the sutika period. As mentioned earlier sutika phase lasts for 6 wks after delivery, it is this time where the uterine muscles starts to regain its previous size and shape, which is equally important considering the female health and cosmetic aspect.
The Sutika Paricharya is essential for :
Regaining previous figure and vigour
Generation of adequate breast milk for the baby
Prevention of future degeneration of body tissues.
By the end of first week, the newborn mother settles down with her chores of handling the baby, changing diapers, breast-feeding, self care, and diet. She also regains her emotional and hormonal balance. Now onwards the sutika paricharya changes majorly in terms of diet and medicines. Oil massage, belly binding and yoni dhoopan are to be continued till the end of 6wks or sutika kaal.
Diet in Sutika Kaal :
Mother can start her day early with Gum laddoo/ Garden cress seeds laddoo/ wheat flour laddoo/fenugreek seeds Laddoo and glass of milk with shatavari kalpa. Gum Ladoo commonly known as Dinka laddoo, is a sweet preparation made with edible gum, roasted dryfruits (almonds,dry coconut,dates), jaggery, ghee, etc. this not only tastes good but also has high nutritional values, facilitates lactation, strengthens back and reproductive organs post delivery. It also helps in regaining shape and size of the uterus.
Note  : In case of caesarean delivery, Gum laddoo should be consumed after 1 month.
Almond and date kheer,
Garden cress seeds (Lepidium Sativum) kheer
 Sweet semolina/ dalia
Ragi or bajri porridge
Savouries like pancakes made with rice flour,wheat flour, moong dal, garlic ajwain parathas, boiled eggs.
Dates soaked in ghee, black currants, dry figs can be taken as a mid time munchers.
Add ghee in all preparations, replace jaggery with sugar wherever possible. All these preparation provide nourishment, enhances breast milk, strengthens and rejuvenates body tissues.
Roti made of jowar/bajra/rice flour or chapati.
Moong dal or udad dal with rice or khichdi.
Veggies like drumstick, fenugreek, yam, raw banana, bottle gourd, dill, ridge gourd, snake gourd which are easily digestible can be consumed. Avoid using chillies as spice, instead use black pepper. Add garlic, coriander powder and ghee liberally in any food preparation.
Vegetable soups.
Aged lime pickle , garlic chutney can be included to enhance taste.
In case of Non vegeterians, avoid fish but eggs and chicken, liver cooked with dry coconut, ginger- garlic, coriander powder and black pepper. NOT to forget Ghee.
Chicken clear soup or Mutton paya soup can be consumed, with tempering of garlic, turmeric and pepper in ghee can add to taste.
Avoid Chick peas, peas, beans, potato, brinjal and any kind of fermented foods like bread, idli dosa ,etc as they exert load on digestion and tend to increase vata.
1 tsp of dill and ajwain seeds, a small piece of dry coconut should be consumed after every meal
Water medicated with dill and ajwain should be taken warm throughout the day.
Mid time snacks may include laddoos, or dates .
Sutika daily routine : 
As mentioned in the previous article, abhyanga should be done early morning with medicated oil, followed by vaginal fumigation and belly binding.
Hair should be oiled regularly with coconut oil.
Avoid direct wind or sitting in air-conditioned room
Head should be covered with scarf.
Strict hygiene should be maintained.
Adequate rest should be taken.
Medicines :
Balant Kadha no.1  —   1st 10 days.
Balant Kadha no.2 — 11th day to  1st month.
Balant Kadha no.3 — 2nd month.
Dashamool Kadha can be taken in absence of Balant kadha.
Dry ginger powder mixed with ghee and powdered sugar should be taken daily early morning for 6 weeks.
Medicines like Balant Battisa and soubhagya shunthi paak should be taken after consulting your Ayurvedic Physician.
Follow all these tips and enjoy your new motherhood with good health.