After knowing about post-partum mother care (Sutika paricharya) in detail, in previous articles, we shall now learn about, some easy to make and healthy recipes for the new moms (sutika ahar). Everyone around advises the new mother to eat healthy, and nutritious food, have lots of ghee, eat ladoos of various types and lots more. This is possible in families where elderly females are nearby, but in nuclear families where there is nobody to guide, new mommies are really confused with what to eat and what to avoid. This article is specially for these moms. I will share some recipes which are healthy and tasty.
1. Sunthavda (Dry ginger tablet) :
Ingredients :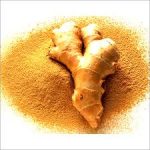 Dry ginger powder – 2 tsp
Jaggery – 2 tsp
Turmeric – 1/4 tsp
Ghee – 1 tsp
Preparation :
Heat ghee in a pan (use low flame),
Add jaggery to it , stir continuously to avoid sticking,
Once the jaggery starts melting add ginger powder and turmeric, mix well and serve warm.
Sunthavada should be taken every morning, this improves digestion and also pacifies vata. It also helps in wound healing and fast recovery from stress due to labor. This can be taken by both the women who delivered vaginally and caesarean section.
2. Rice Pancakes (Dhirda) :
After having all those ladoos and methi sabji, sooji halwa (semolina), porridges, your taste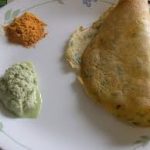 buds crave for sum tasty snack.
Ingredients :
Rice flour – 1 bowl
Ajwain seeds – 1/2 tsp
pepper powder – 2 pinches
salt – as per taste
Powdered coriander seeds – 1/4 tsp
Water
chopped garlic cloves – 8-10
oil
Preparation :
Take rice flour in a bowl (you can also take combination of rice, jowar and bajra flour), add ajwain seeds, pepper powder, salt, chopped garlic and coriander powder to it, mix well. You can also use fresh coriander leaves. Add water and mix well so that no lumps are formed. The batter should be of dosa consistency. Now heat non-stick pan and grease with oil, evenly spread the batter on it, cover it with lid for half a minute. remove the lid let it cook for one more minute on medium flame. serve it hot with garlic/Tamarind / dry coconut chutney. Serve hot. This pancakes are healthy, tasty, easy to digest.
3. Tamarind chutney :
Ingredients :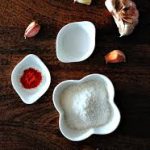 Black tamarind (aged and preserved in salt) – 1 inch long
Garlic cloves – 15- 20
Dry coconut – 200 gms
salt and sugar – for taste
Pepper powder -1/2 tsp
Preparation :
Take pieces of dry coconut in  a grinder, add garlic , salt, sugar and pepper powder, add tamarind pulp only, make sure you remove the seed from it. Grind and mix it well, tangy and healthy chutney is ready. You can as well have it with bhakari, chapati, other pancakes.
Note : Always use dry coconut in any food preparations after labour, avoid using fresh coconut. Only aged tamarind should be used. The chutney is tasty and healthy as well, the dry coconut gives nourishment and also helps shrink the uterus to its normal size. The pepper and garlic helps reduces vata dosha and also facilitates bleeding and thus cleansing of uterus. Aged tamarind reduces vata and also tickles your taste buds.
4. Sweet and salty pancakes :
Ingredients :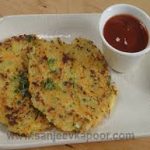 Wheat flour – 1 cup
Rice flour – 1/4 cup
Jaggery – 1/4 cup
Pepper powder – 1/4 tsp
Turmeric – 1 pinch
Salt – as per taste
oil – for cooking
Water
Preparation :
Dissolve jaggery in 1/2 cup water, now add rest of the ingredients and mix well. Add water as needed to make the batter of dosa consistency. Heat pan and grease it with oil/ghee, spread the batter evenly and cook on medium flame. The sweetness of this particular pancake can be decided as per taste. It is healthy, good for lactation, and also cleanses the uterus.
5. Fenugreek seeds halwa :
This is one traditionally prepared delicacy, which is enjoyed by new mothers but also other family members, due to its yummy taste and nutritional values. Usually the utter name of fenugreek seeds makes people frown due to its bitter taste, but I bet on this you are just going to love this.
Ingredients :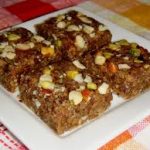 Fenugreek seeds – 100 gms
Jaggery – 250 gms
Freshly grated coconut – 1 big coconut
Ahaliv (Garden cress) – 2tbsp
Cardamom powder – 1/2tsp
Roasted chopped almonds – 10-12
Poppy seeds roasted – 1 tbsp
Ghee – 1tbsp
Preparation :
Soak Fenugreek seeds in water for a day, drain the excess water and allow it to sprout. once sprouted, cook them well in minimal water, make sure that water is evaporated completely. Now add jaggery, ghee and grated coconut to it. stir occasionally to avoid sticking to pan till the mixture becomes dry and starts leaving ghee on its side. Now add chopped almonds, cardamom powder , ahaliv seeds and roasted poppy seeds and mix well. You can also add black currants to it.
Fenugreek halwa apart from being  tasty, is very nutritious. It is good for lactation, strengthens bones, good for backache especially after delivery. It also helps to regain the normal size of the uterus, pacifies vata dosha. Normal individuals can enjoy this halwa in winters to strengthen the bones.
Note : Individuals with pitta prakriti or pitta problems should consume it in small amounts, and have it with extra ghee.
6. Ahaliv (Garden cress) ladoos :
Ingredients :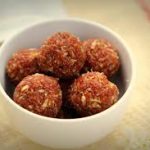 Freshly Grated Coconut – 1 big coconut
Ahaliv – 200 gms
Jaggery – 350 gms
Chopped Almonds
Cardamom – 1/2 tsp
Roasted Poppy seeds – 2 tsp
Dry date powder –  2 tbsp
Dry ginger powder (shunthi) – 1/2 tsp
Ghee – 1 tbsp
Preparation :
Take grated coconut in a bowl, mix Ahaliv seeds in it, also sprinkle some coconut water on it. Leave the mixture for 2-3 hrs. The seeds become swollen and get well soaked due to the moisture of freshly grated coconut. Heat ghee in a nonstick pan, add the above mixture and jaggery to it, now stir the mixture at regular intervals, till the mixture becomes dry, and leaves the edges. Use medium flame. Now add cardamom powder, dry date powder, shunthi powder, almonds and poppy seeds, mix it well and make ladoos.
These ladoos can be taken along with milk at breakfast time. These are very good for lactation, nutritious, helps to regain lost energy. Ahaliv is very good haematinic, increases hemoglobin levels. Jaggery in it cleanses uterus, pacifies vata, and also good supplement of iron and other nutrients. Dry dates strengthens bones and prevents back ache.
7. Dink (Edible gum) ladoos :
Ingredients :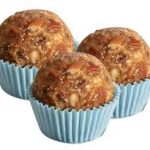 Edible gum – 250 gms
Poppy seeds – 100 gms
Semolina – small bowl
Dry coconut – 250 gms
Dry date powder – 250 gms
Jaggery – 500 gms
Ahaliv – 3 tbsp
Chopped almonds
Black currants
**Balant Battisa powder – 200 gms
Ghee – as required
Shunti powder – 1 tbsp
 Fenugreek Powder – 1 tbsp
** Balant battisa is a mixture of 32 herbs like piper longum, dry ginger, fenugreek seeds, dill seeds, carom seeds, asparagus, ashwagandha , etc. it is a post natal tonic for mothers.
Preparation :
Shallow fry Gum granules in ghee, these granules puff after frying, crush them and keep aside. Then roast other ingredients (each separately) like poppy, semolina, coconut, date powder, and dry fruits, in ghee. Now dissolve jaggery in a cup of water, and heat on a low flame till one string consistency is formed (1 taari paak), and then add all above ingredients to it. Mix it well and make ladoos still the mixture is warm.
Everybody is aware of the benefits of this most nutritious and tasty post natal recipe. Good for backache, lactation and lots more.
Note : Women who have undergone caesarean delivery, should avoid having gum ladoos for atleast 21 days after delivery. Gum being hot in potency should be consumed in small amounts in summer and individuals with pitta prakriti and pitta ailments.
8. Nutritious Ladoos :
Now for the ladies who cannot have dink ladoos due to any reason, especially caesarean delivery can enjoy these ladoos. These are equally beneficial and excludes side effects of dink ladoos.
Ingredients :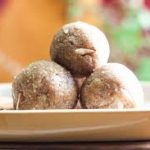 Wheat grains – 500 gms
Whole Moong – 500 gms
Powdered sugar – 500 gms
Dry coconut (grated) – 250 gms
Dry Date powder – 250 gms
Ahaliv – 2 tbsp
Fenugreek Powder – 1 tbsp
Poppy seeds – 100 gms
Balant Battisa – 100 gms
Black currants and chopped almonds.
Ghee – 500 gms.
Preparation :
Wipe clean wheat and whole moong grains seperately. Dry roast them seperately and grind to a coarse powder.
Take approximately 300 gms ghee in a pan and add wheat and moong powder to it, roast in ghee nicely on low flame till it becomes golden brown and gives pleasant aroma.
In another Pan roast all other ingredients in ghee seperately except balant battisa, black currants, sugar and fenugreek powder. Once the wheat and moong powder are done with the roasting , mix all other ingredients well. Add ghee if needed, and mould into round ladoos.
Note : Wheat and moong powder both being coarse and dry, don't let ladoos form very easily, in such case, u can have a small bowl full of this healthy recipe.
9. Some other traditional recipes include sweet or spicy daliya, rice/ ahaliv /semolina/bajra porridge, panjiri etc…..
There are lot many traditional recipes throughout the globe according to the climatic conditions and culture, and which has been born out from intellectual minds of our foremothers with scientific reasons of course, But here I would like to limit myself with few of these recipies, which are easy and healthy.